Having never understood the excitement of buying Christmas presents in July, we launch our Christmas gift guide today, with the luxury of at least four shopping days left to purchase thoughtful local items for your nearest and dearest.
Edible gifts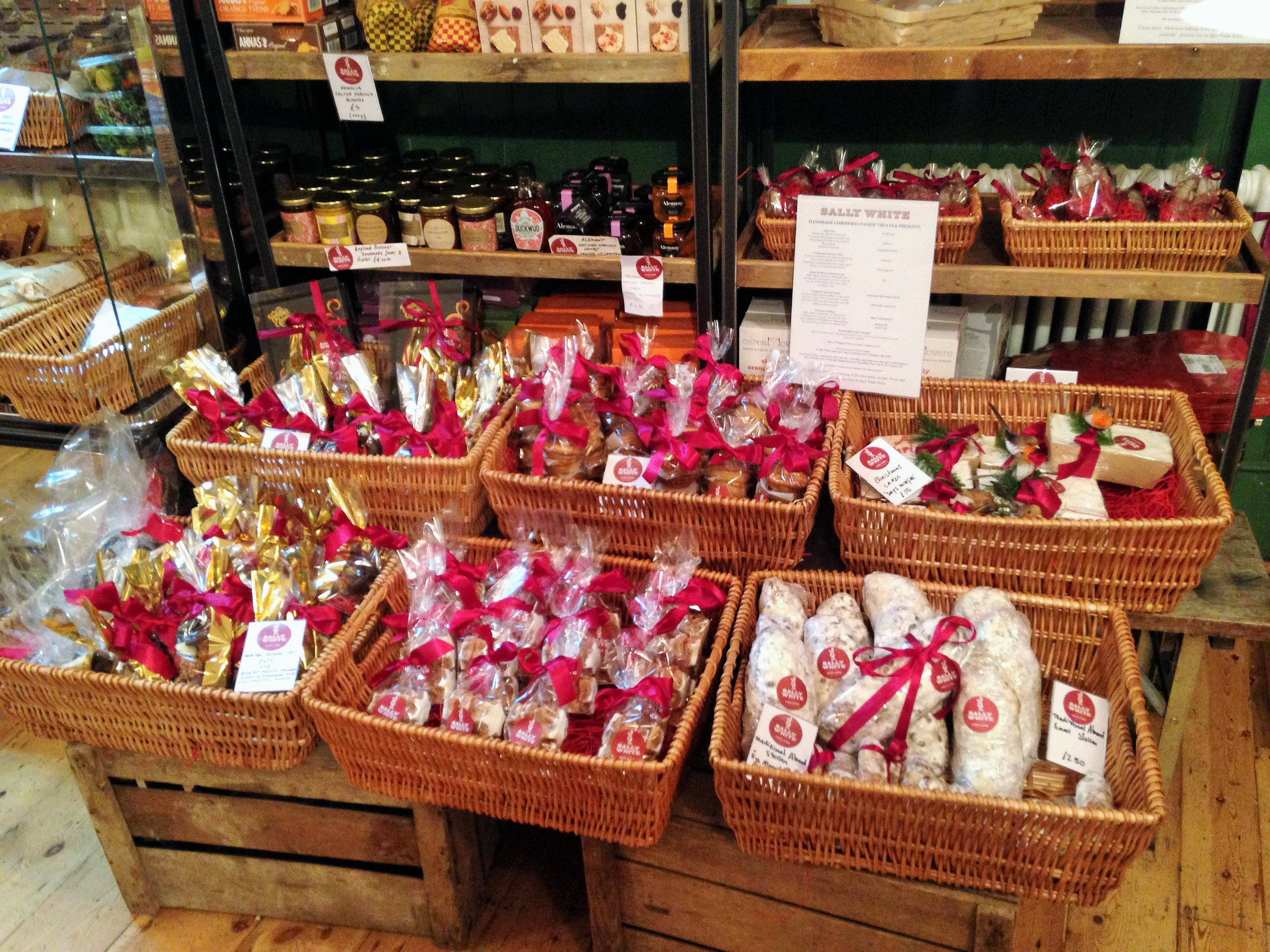 Sally White is bursting at the seams with packages of Christmas foodstuffs,  trussed up with ribbon and sprigs of tasteful non-sparkly tinsel. From a whole box filled with their Kennington-famous brownies (a gift to oneself if ever we did see one), to bags of excellent cinnamon stars (which we can confirm are much tastier than the Konditor & Cook version, having tasted both). They are also doing a range of seasonal hand-made chocolates in a squirrel theme, praline Santas, stollen, mince pies, Christmas pudding and Christmas cake, and the ever-wonderful three nut crackers. We ate the seasonal pralines before gifting them when they first appeared, so are perhaps consider buying two lots. They also have healthily sized hampers with much of the above contained within.
Italo Deli would make another good one-stop shop for a hamper – Kernel ales, Rococo chocolates, and lots of fine jams, chutneys, meats and cheeses, plus good chat while you peruse.
Our most frequently visited Kennington shop,  the Super Store at 161 Kennington Lane, have really gone to town with the Christmas window display this year (below). In addition to the biggest box of Guylian we have ever seen they also stock a wide variety of Lindt.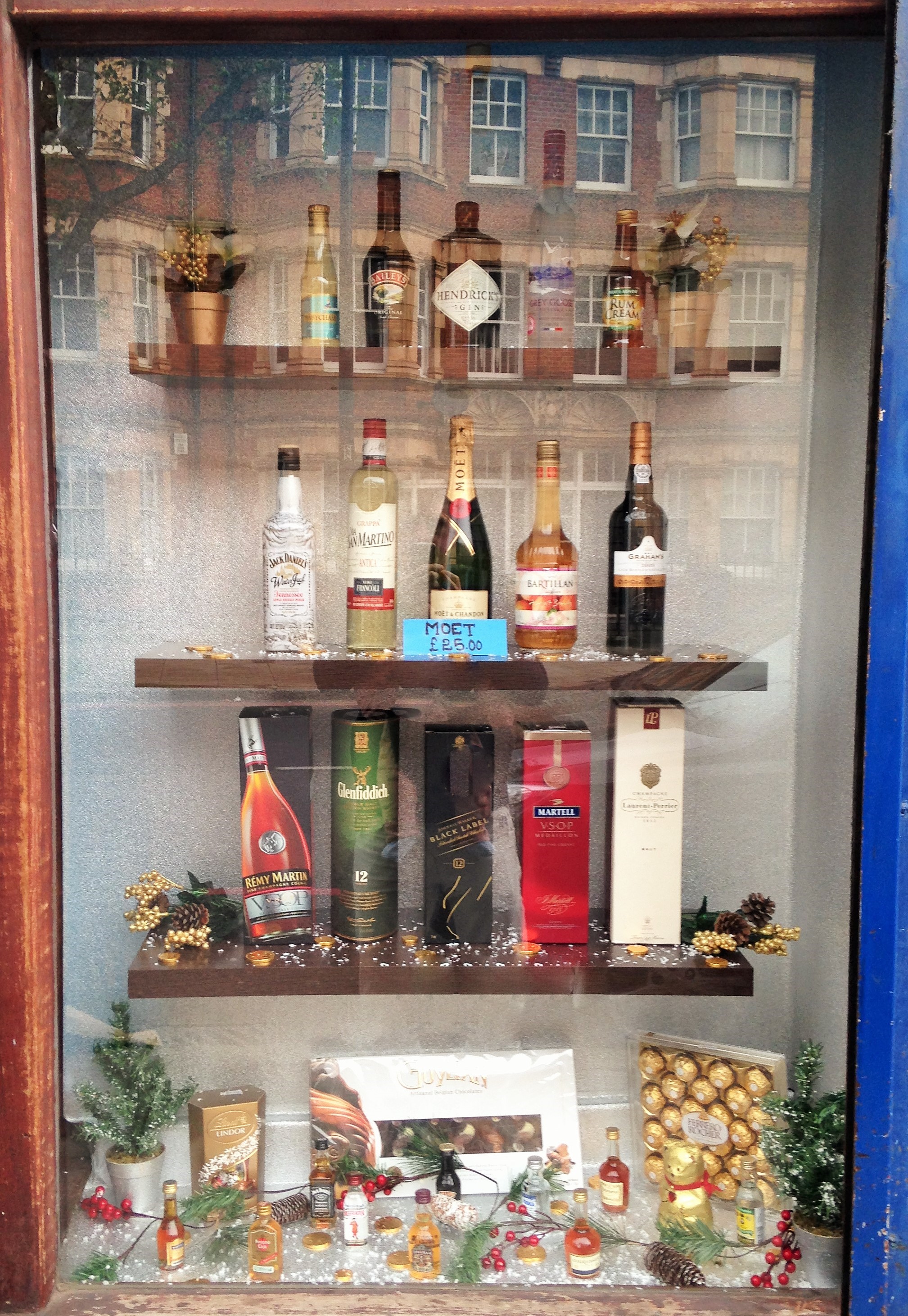 What better gift than the gift of food to someone who actually needs it? Donations can be made at the Vauxhall Foodbank, 105 Tyers Street, Vauxhall, SE11 5HS any time during office hours, Mon-Fri 9.30-5pm (Wickham Street Entrance). If you are bringing a larger donation (more than a couple of shopping bags), or if you need help unloading a donation, call them on 07586 258991 or email so that they can ensure they have someone who can help you. If you would prefer to donate money you can do that online here. Waterloo Foodbank is at 1 Kennington Road, London SE1 7QP and on 020 7921 4205.
Oddbins are open until 7pm Christmas Eve, stock a good selection of craft ales, and occasionally local brewer Orbit, and Havana cigars.
Oval Farmers' Market are going all out for Christmas. They have the usual market on Saturday 19th from 10 to 3, and a panto in St. Mark's Church alongside the market on the 19th as well. Tickets include a Christmas party after the panto with Christmas elves, story telling, games, balloon modelling and much, much more. Book your places as soon as possible at panto@weareccfm.com. Children £4 each, parents go free. Then a special Christmas market from 2pm – 7pm on the 22nd. Expect your favourite Oval Farmers' Market stallholders plus live music from The Peas and Dai & The Ramblers, mulled wine & cider, handmade crafts for the perfect gift, and festive treats.
Local biscuit couturiers the Biscuiteers, who have their workshop on Stannary Street marked with a fetching illustration of their dog mascot, are offering free delivery if you order from them by midnight tonight (enter code CHRISTMASJUMPER). We are holding out for a hand-iced Kennington Runoff logo.
The gift of relaxation
Yogabelle, who offers yoga and massage in the uplifting surroundings of the Siobhan Davies Studios, will provide gift vouchers so that you can give someone the gift of wellbeing. Her massages and classes both come highly recommended.
Homewares, flowers, art and other stuff
The Boule-In are open until the 23rd, as are Brocket Gallery.
Shalimar will be open this Saturday as a one-off, to cater for all the people flooding there following our recent blog post.
The Damien Hirst shop Other Criteria, adjacent to the Newport Street Gallery, for Harland Miller beach towels, butterfly plates, and a box of Pharmacy branded matchbooks for £75.
Brunswick House for a pair of 19th century French cast iron urns, or a substantial Scottish pond yacht. Open until 2pm Christmas Eve.
Vanilla Black is open until this Sunday, with new and used books for sale.
Imperial War Museum has at least three different shops under its newly redeveloped Foster & Partners roof. If you've never been, the shops offer surprisingly high end products, including some nice jewellery outside the Lee Miller exhibition.
Jamjar Flowers, Tomorrow's People or Windmill Flowers for bunches of flowers that will please everyone. Windmill Flowers also have Charbonnel et Walker chocolates, alpaca scarves, succulents in coconut shells, and are open until 2pm Christmas Eve.