We weren't overly excited when we heard the restaurant at Newport Street Gallery was going to be Pharmacy 2. Damien Hirst is an artist whose reputation is built on great ideas, so why recycle one from the nineties? (The original Pharmacy opened in Notting Hill in 1998, closing in 2003.)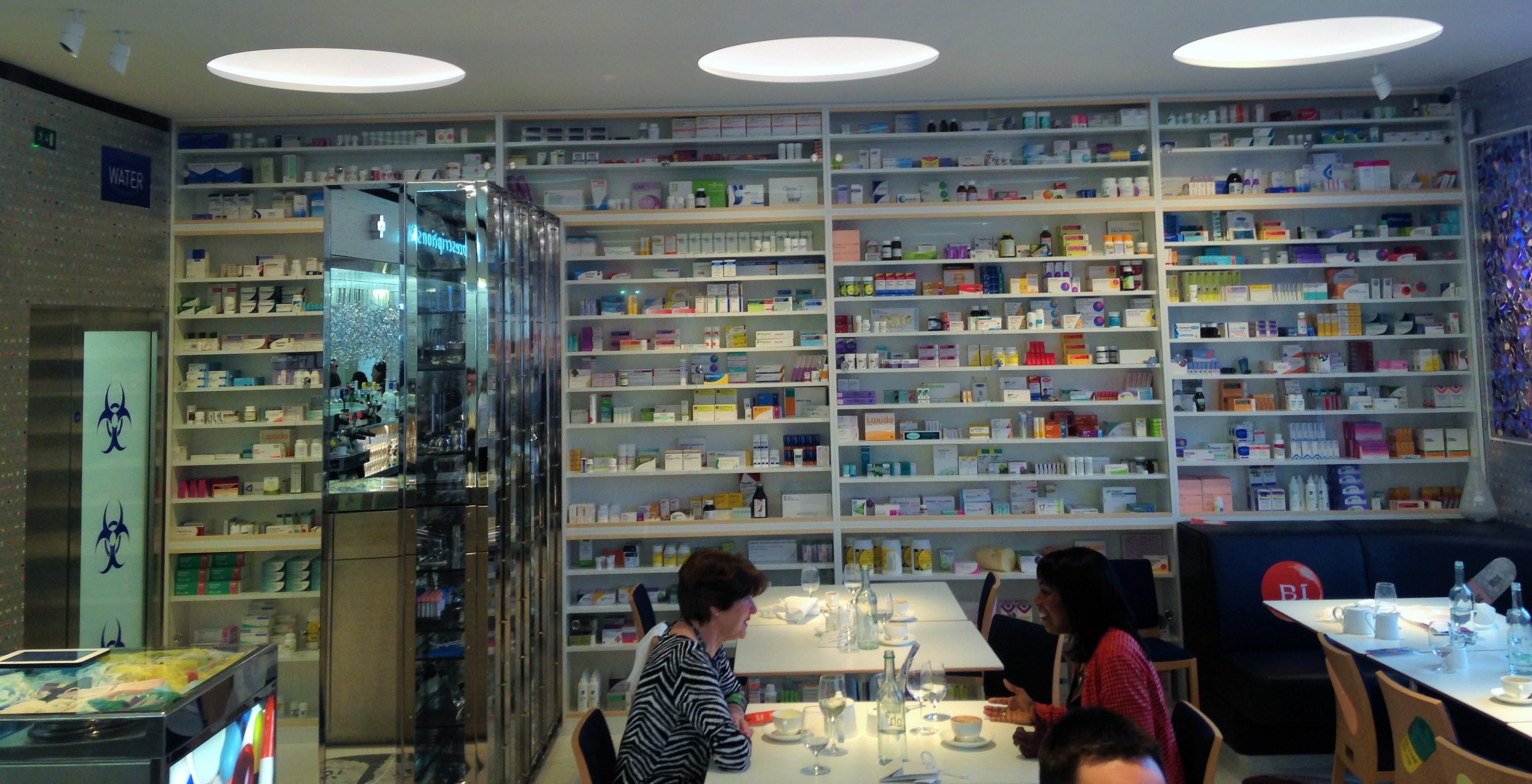 Then we heard the food would be by Mark Hix, longstanding friend of the (not young anymore) Young British Artists. We are fans of Mark's cooking but it tends to be rather meaty, and the two times we went to Hixter Bankside it was almost as quiet as Gordon Ramsey's place round the corner on Great Suffolk Street.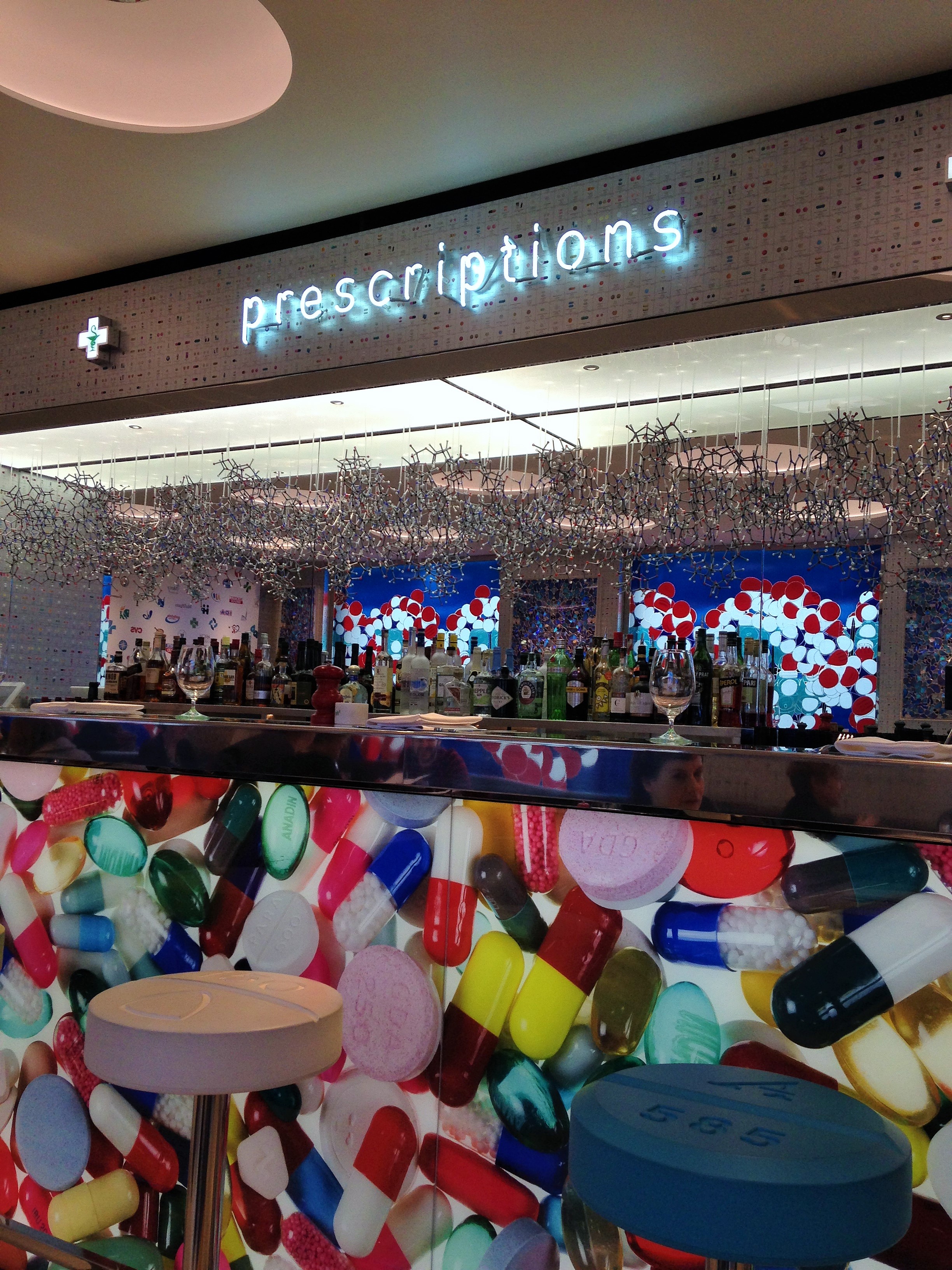 Also, our solicitation came to naught – we did not receive an invite to Pharmacy 2's opening. But to make it up to us, they arranged for the most talented and compelling sportsman of his generation, Ronnie O'Sullivan, to be dining there with Damien Hirst during our first visit (Ronnie had the steak).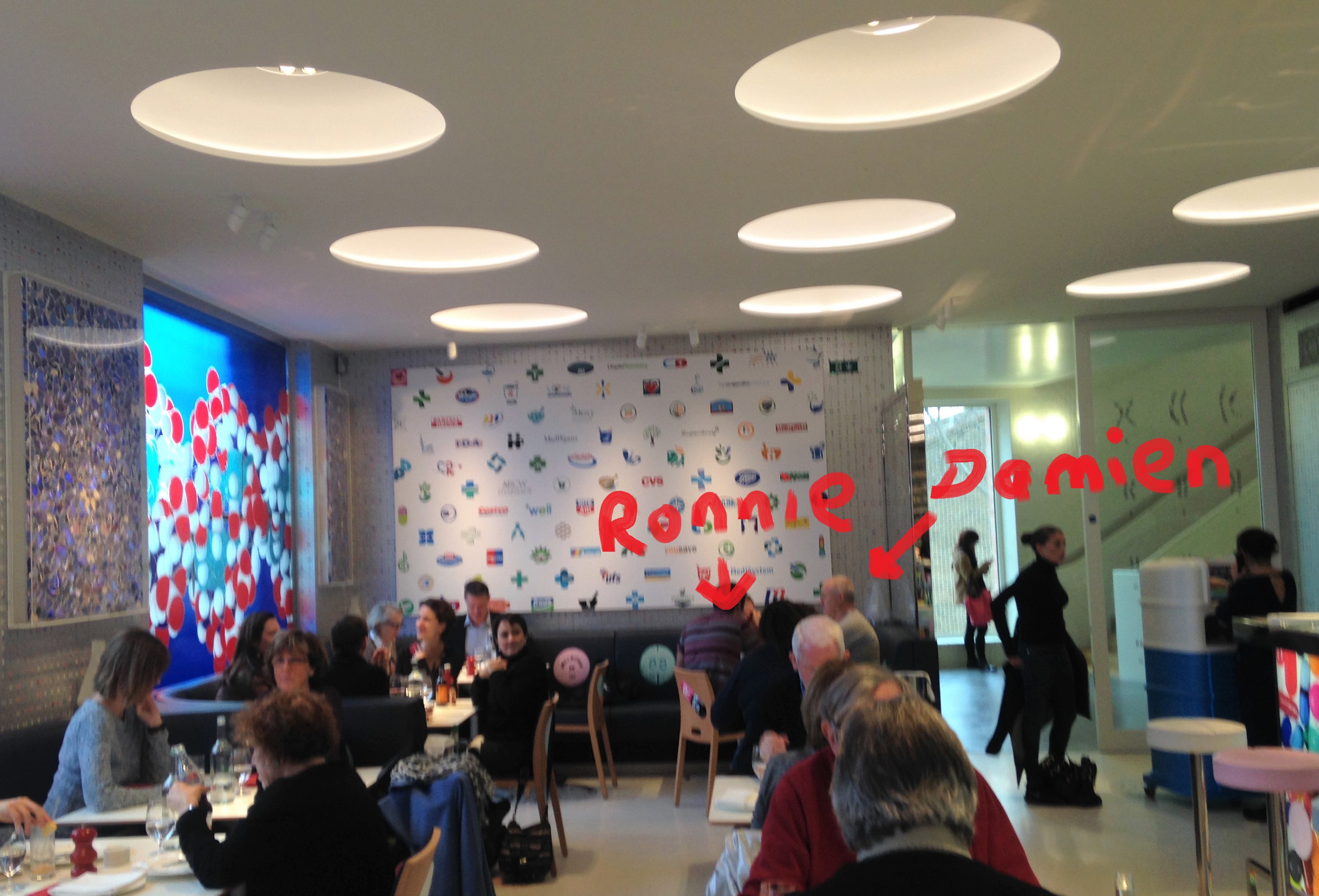 From the moment we entered and saw Ronnie, we had a great time. The decor may not be a new idea, but it's fun to look at, and at least it's not a Polpo rip-off. There are no other restaurants remotely like this in the area, and it seems to be doing well, being close to capacity for both our visits.
As for the food, most of it was great. Struggling to find a vegetarian main course, one of us had two starters instead, although we've since seen there is a vegetarian menu on their website (perhaps you have to ask for it). Anyway, these shaved winter squash with trevisano and Graceburn cheese cost £7.50 and went down very well: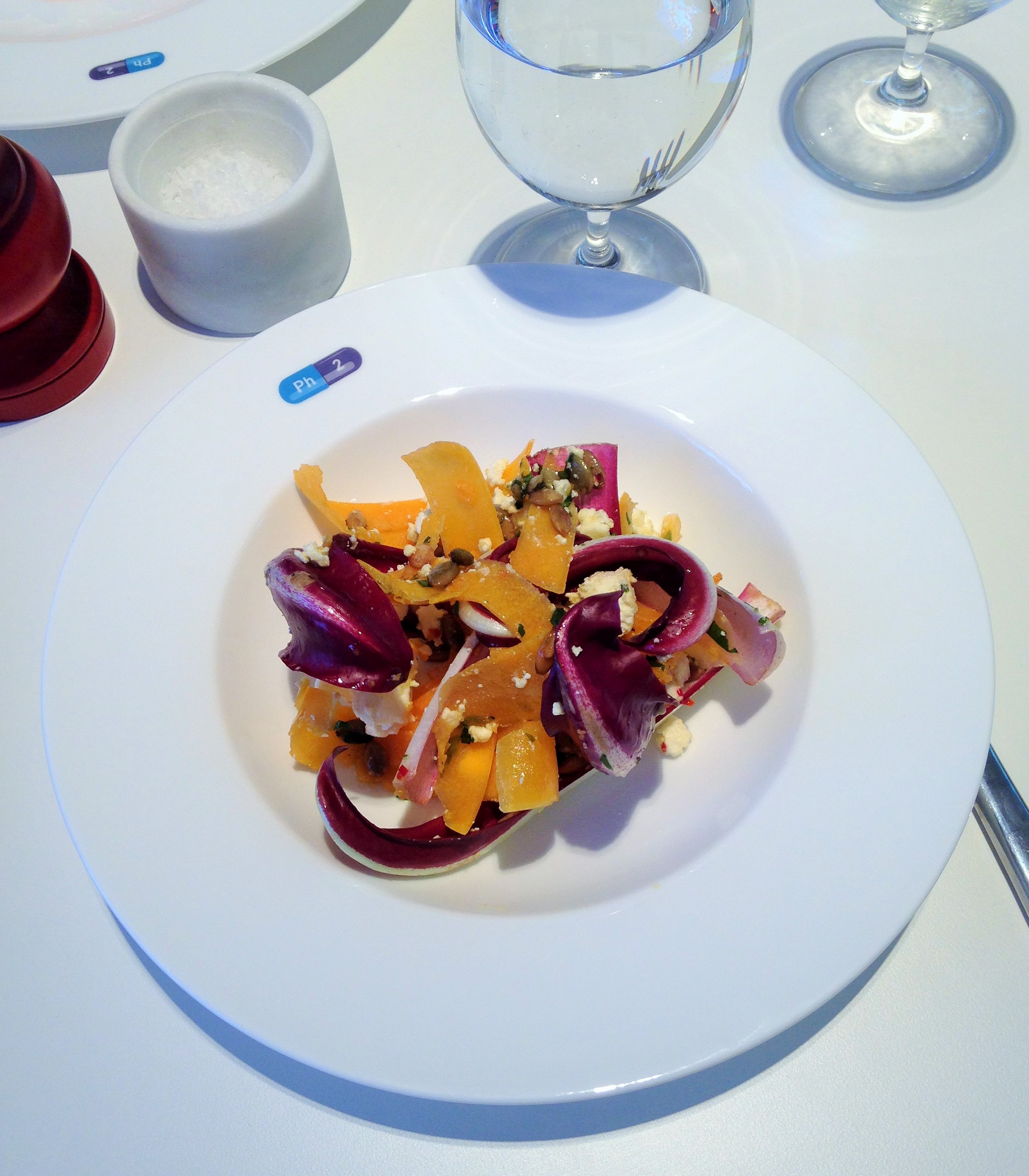 As did these heritage beets with walnuts and chickweed, also £7.50: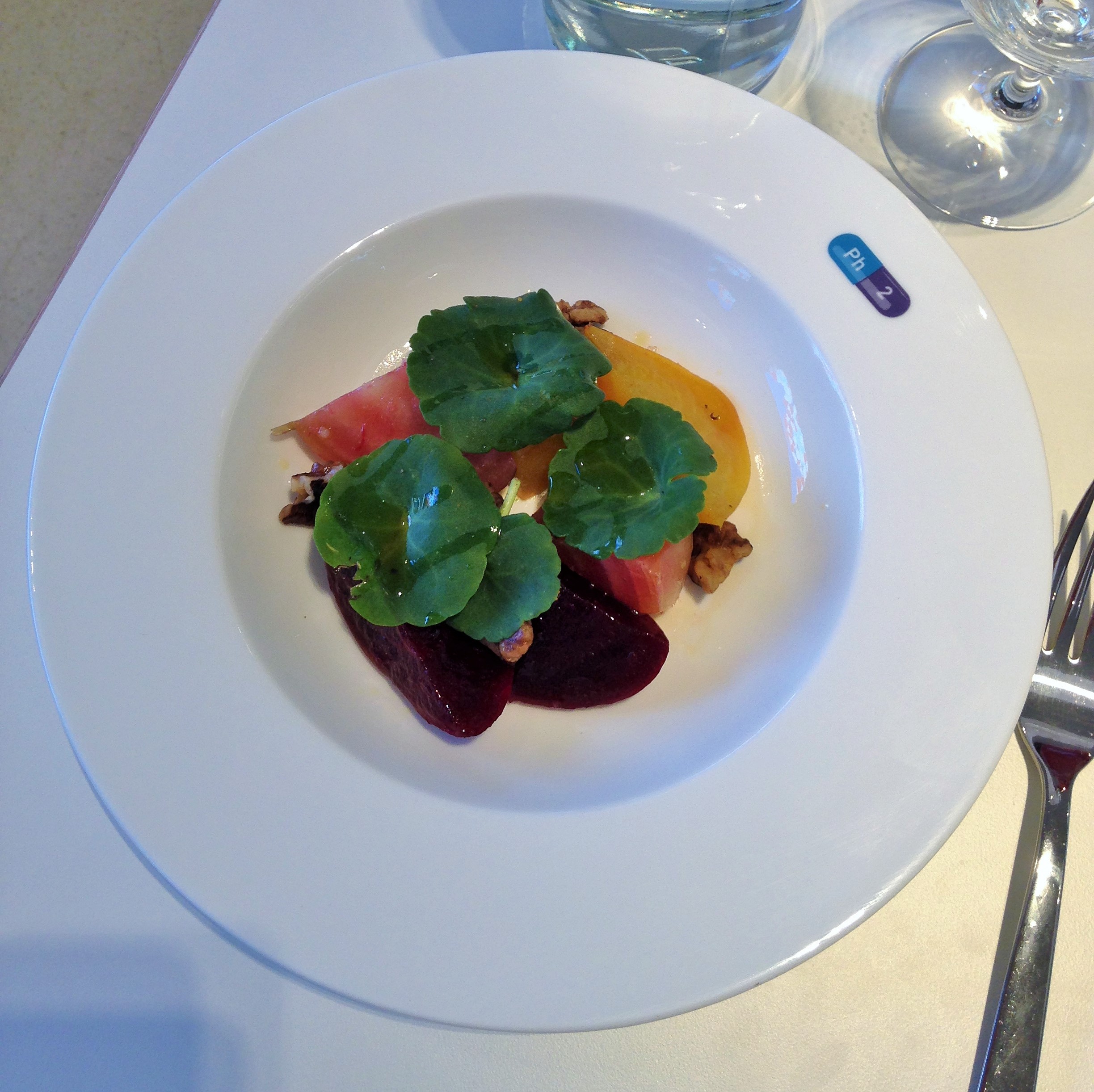 Your other correspondent went for a flawless brunch option of smoked salmon and scrambled eggs for £9.95 (they serve brunch from 10am to 6pm every day except Monday when they're closed):
On our second visit we had some tasty waffles with Yorkshire rhubarb for £7.95, but the brunch portion sizes are not large – more of a mid morning snack than a full meal.
The desserts are also small but cost just £4 so no complaints there. This pineapple upside-down cake was deliciously moist and nostalgic. So nostalgic that we went right back to the days when you just started eating instead of taking a photo first:

The only disappointment was a side of creamed spinach, which tasted like a pie filling without the pie, and was far too salty.
Nonetheless we can wholeheartedly recommend Pharmacy 2 for brunch, lunch, dinner or drinks. It's great fun.
They're open Tuesday–Saturday 10am–midnight, and Sundays 10am-6pm.
Address: Newport Street, London SE11 6AJ.